Tourist Home Tatsuya Ryokan, Naha – Safe and comfortable for female individual travelers
informatin on room charges    FAQ
Tourist Home Tatsuya Ryokan Naha, Okinawa

Home-like accommodation recommendable to female individual travelers, families, couples, child individual travelers
Western-style tourist home proud about clean, spacious, and bright rooms like a hotel
Fully equipped with amenity goods and other facilities, and enhanced free services are available
You can enjoy live "sanshin" performance during the fun "yuntaku" (chit-chat) time after dinner
           ♪ Our House is Your House ♪
All western-style rooms with a private bathroom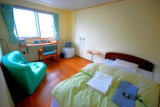 Spacious, bright, clean, and tidy rooms, unusual for a tourist home
Enhanced facilities and amenity goods
Amenity goods and supplies in the rooms are more enhanced than those in a business hotel
Each room is equipped with a CD player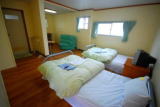 Soft drinks, Internet, fully-automatic washing and drying machine, and detergent are all available for free
Free breakfast (Help-yourself style)
Free use of quality bicycles (enough bicycles for all our guests)
Enjoy "sanshin" performance and "yuntaku" (chit-chat) after dinner
You can enjoy Okinawa "sanshin" (three-stringed musical instrument) performance anytime at your request during "yuntaku" after dinner.
Convenient location
 Close to Naminoue Beach/Okinawa Prefectural Government/Kokusai-dori Street/Naha Port
Although our place is conveniently located near the Naha city center, the environment is so quiet that you hear birds singing in the morning
Enhanced tourist information on Okinawa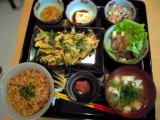 We prepare brochures, guide books, free/discount tickets of most tourist facilities on Okinawa Main Island for you
Free use of beach goods
Free use of beach goods is available again this year. All goods are clean.

1-9-21 Tsuji, Naha-shi, Okinawa 900-0037 Phone: 098-860-7422 Reservation E-mail: tatsuyaryokan@me.au-hikari.ne.jp
・Mentioned in "Rurubu Okinawa '09" published by Japan Travel Bureau
・Taken up in the exclusive column entitled "Female reporter's individual travel" of the Mainichi Shimbun Evening Paper dated October 4, 2007.
・A "short column" in "Information on Okinawa Remote Islands" published by Ringo Promotion described our place as "a very comfortable accommodation to stay at".
・A magazine named "Okinawa Style" Vol. 16 described our place as "Comfortable accommodation – Enjoy "yuntaku" time every night over "sanshin" performance and "awamori" (distilled alcohol made from rice).
Although we have been in business only for 4 years, repeat guests account for over 30 % of the monthly average room occupancy.
We value our guests' patronage from the bottom of our heart.